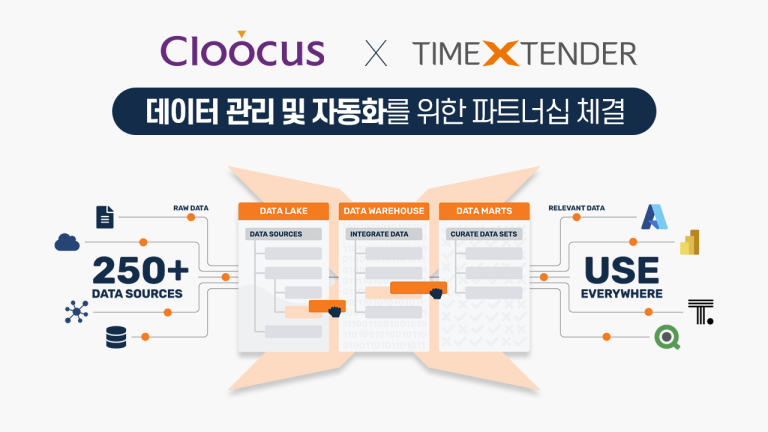 Data and AI-based cloud management company, Cloocus, CEO Seong-Wan Hong, has announced a strategic partnership with TimeXtender https://www.timextender.com/ CEO, Heine Korg Iversen, a global data management and automation solution company.
The partnership will enable Cloocus to leverage data management and automation technologies of TimeXtender to provide more professional and broader delivery of data quality improvements and data processing automation.
TimeXtender maximizes the efficiency of data management and analysis across Microsoft solutions. In cooperation with Cloocus that has won Microsoft Partner of the Year for three consecutive years, the partnership is expected to create great synergy between the two companies.
With headquarters located in Denmark, "TimeXtender" is renowned to be a global leader in data warehouse automation (DWA) solutions. Data Warehouse Automation (DWA) aims to automate repetitive design, development, deployment, and operation in the life cycle of data warehouse to efficiently deliver and manage data warehousing at a much faster but lower costs than before. This allows its users to quickly integrate new data, process big data more efficiently, and spend more time on business intelligence.
TimeXtender automates data integration and processing by utilizing drag-and-drop and low-code builders. Users can easily organize, validate, and model data using prebuild data connector directories. The processed data can be distributed directly to variety of analysis tools including PowerBI and Qlik, enabling users to quickly build dashboards and reports. TimeXtender has recently acquired a BI solution company to strengthen its data quality and automation process.
"Cloocus desires to provide professional data management and analysis services that can respond end-to-end to various customer needs by expanding its SaaS partnerships that can be deployed on cloud. Collaboration with TimeXtender will further advance Microsoft cloud-based data warehousing automation service, and we will continue to do our best to assist customers secure their business intelligence more quickly and efficiently based on solution R&D." said Hong, Cloocus CEO.
"Our software is built on agile principles leading to quick data ingest and prep while efficiently scaling to meet future analytics needs. Our holistic, metadata-driven approach to data integration optimizes for agility, not fragmentation. By unifying each layer of the data stack, TimeXtender empowers you to build data solutions 10 times faster, while reducing your costs by 70%-80%." Heine Iversen, founder and CEO TimeXtender.
TimeXtender currently provides a free plan for first-time customers. Details can be found on here: Get started with TimeXtender for Free
Cloocus was selected as Microsoft's Partner of the Year for three consecutive years, winning the Top Partner in Data & AI at Microsoft Korean 2023 Partner Awards. It is the only company in the country with Elite partnership tier of Databricks. As a data and AI specialized cloud MSP, Cloocus continues to expand its global cloud service experience by providing efficient and stable cloud solutions to customers. With its headquarter located in Seoul and an office in Busan, Cloocus is actively expanding globally throughout APAC and MENA regions including its overseas branch in the United States and Malaysia.