Oriental Brewery - SAP on Azure Migration Case Study
Who is Oriental Brewery Co.?
Oriental Brewery is Korea's #1 beer brewery company that has led the Korean beer & liquor industry. It holds an unparalleled #1 market share in Korean domestic market, with a variety of drinks tailored to consumer's tastes. From #1 Korean beer Cass, Hanmaek, OB Lager, Budweiser, Hoegaarden, to Stella Artois, Oriental Brewery accounts for more than 70% of Korean beer exports. AB InBev, the parent company of OB Beer, is a global conglomerate with 170K employees in more than 50 countries. It has over 500 porfolios and focuses on producting high-quality beer by using the best ingredients. 
What were the painpoints of the customer?
Oriental Brewery used SAP and other systems on on-premise environment, but they wanted to improve their IT infrastructure for more stable environment and mangement & cost optimization. As so, Oriental Brewery migrated its existing ERP system to Azure with Cloocus.
What kind of resources were utilized?
Azure IaaS VMs were created to implement the migration process, primarily by Rehosting (Lift & Shift). By redistributing the servers on cloud without modifying the entire architectural code, Cloocus deployed AS-IS environment as planned without the risk of application structure changes. For DB service in use, VM was deployed by placing SQL on IaaS VM, and for DB services not in use, IaaS VM was used.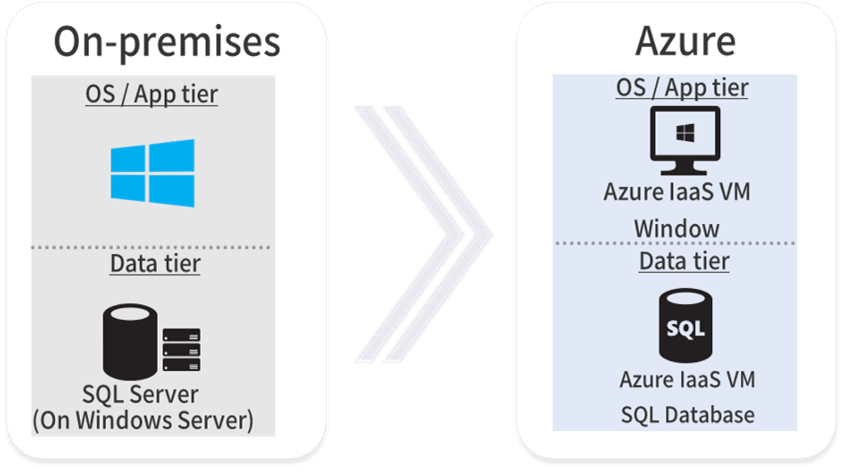 [Rehost]
Minimum change in overall architecture by Lift & Shift method for all services other than Rebuild Service and other excluded services. 

Existing resources were migrated to cloud as it is, without any modification of applications.
[Rebuild]
Newly developed applications which were not supported in the new environment.
What were the benefits and changes after the migration?
First of all, the customer significantly increased its cost-effectiveness after SAP on Azure migration with Cloocus. As there is no initial investment expenses and as Azure charges based on actual usage, Oriental Brewery was able to reduce costs by approximately 30%.
Also, Azure infrastructure gave Oriental Brewerry more flexibility in responding to events. It allowed to scale up and down both automatically and manually for service availability. It also allowed to easily scale in and out with VM replication.
ERP system's stability and efficiency have also been maximized. By applying ABI Global Security Governance, Oriental Brewery now enjoys operational conveinience and security, and Azure Portal made their operational tasks more efficient by providing more visibility for monitoirng and cost management. 
Through migration, the customer has also improved its BCP (Business Continuity Planning), even in events of disasters and emergency.. 
With SDWan function provided within Azure, the customer was able to establish BCP with higher business continuity by building Hybrid Mesh network iin conjuction with the existing Private Mesh Network.
Proven with global technology certifications, Cloocus will help you successfully deploy cloud solutions tailored to your business needs and environment.