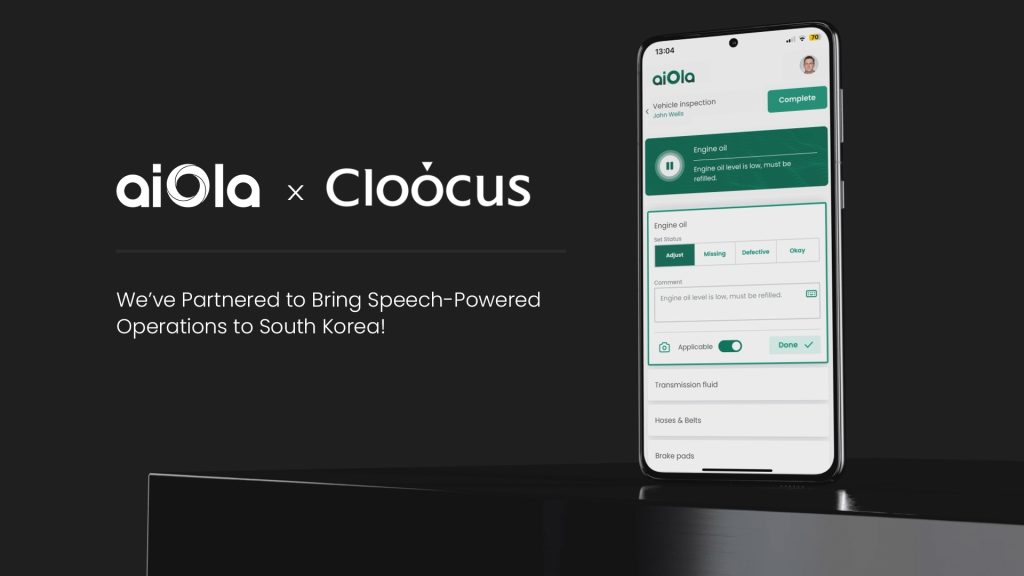 aiOla, a global leader in speech recognition technology, today announced a new partnership with Cloocus, a renowned digital transformation provider, to bring aiOla's innovative AI offerings to companies across South Korea.
The strategic alliance aims to combine aiOla's advanced speech-driven AI platform with Cloocus's expertise in digital transformation, data analytics, and cloud consulting. Together, the companies will deliver transformative AI solutions tailored to South Korean enterprises looking to streamline operations, boost productivity, and gain data-driven insights.
"The world's largest corporations are eager to implement cutting-edge AI capabilities, but doing so can be an immense challenge," said Amir Haramaty, CEO of aiOla. "With aiOla's intuitive and ready-to-deploy solution, enterprises can achieve immediate value and accelerate their AI adoption journey. We're thrilled to collaborate with an industry leader like Cloocus to bring our technology to their network of clients, who can benefit greatly from integrating Generative AI into their workflows."
Regardless of an organization's digital journey, data quality is crucial for their success. Although speech is a widely used form of communication, it often struggles to effectively capture data due to challenges related to business-specific jargon, accents, intonation, language understanding, and background noise. aiOla has the ability to adapt digital and paper processes into speech-driven systems for multiple languages, including Korean. This transformation allows businesses to realize value in a matter of weeks.
"aiOla's speech technology is unmatched in its ability to streamline workflows and generate insights through natural conversation," said Steve Hong, CEO of Cloocus. "Their platform can also quickly onboard new use cases within hours and easily scale as needed. We're thrilled to offer their innovative AI solutions to our network of over 800 clients and equip them with leading-edge capabilities that maximize efficiency and productivity."
South Korea has emerged as a global hub of technological innovation and advanced AI capabilities. This partnership brings together two leaders in AI and digital transformation to drive the next wave of disruption for South Korean businesses across electronics, automotive, ship building, environmental technology, chemicals and other industries.
For more information, visit https://aiola.com/cloocus.
About Cloocus
Cloocus was selected as Microsoft's Partner of the Year for three consecutive years, winning the Top Partner in Data & AI at Microsoft Korean 2023 Partner Awards. It is the only company in the country with an elite partnership tier of Databricks. As a data and AI specialized cloud MSP, Cloocus continues to expand its global cloud service experience by providing efficient and stable cloud solutions to customers. With its headquarter located in Seoul and an office in Busan, Cloocus is actively expanding globally throughout APAC and MENA regions including its overseas branch in the United States and Malaysia.
About aiOla
aiOla, headquartered in Herzliya, Israel, revolutionizes AI adoption with its multilingual speech technology, elevating businesses to the next level. It offers a seamless path to augmenting processes through AI integration, optimizing operations, embracing data-driven strategies, and maximizing potential. aiOla operates on a global scale, with locations in Singapore, New York, and beyond. For more information, visit aiOla's official website.

Related Articles :

aiOla partners with Cloocus to bring advanced Generative AI speech capabilities to the Korean market (prnewswire.com)
aiOla partners with Cloocus to bring advanced Generative AI speech capabilities to Korean market, ETCIO SEA (indiatimes.com)