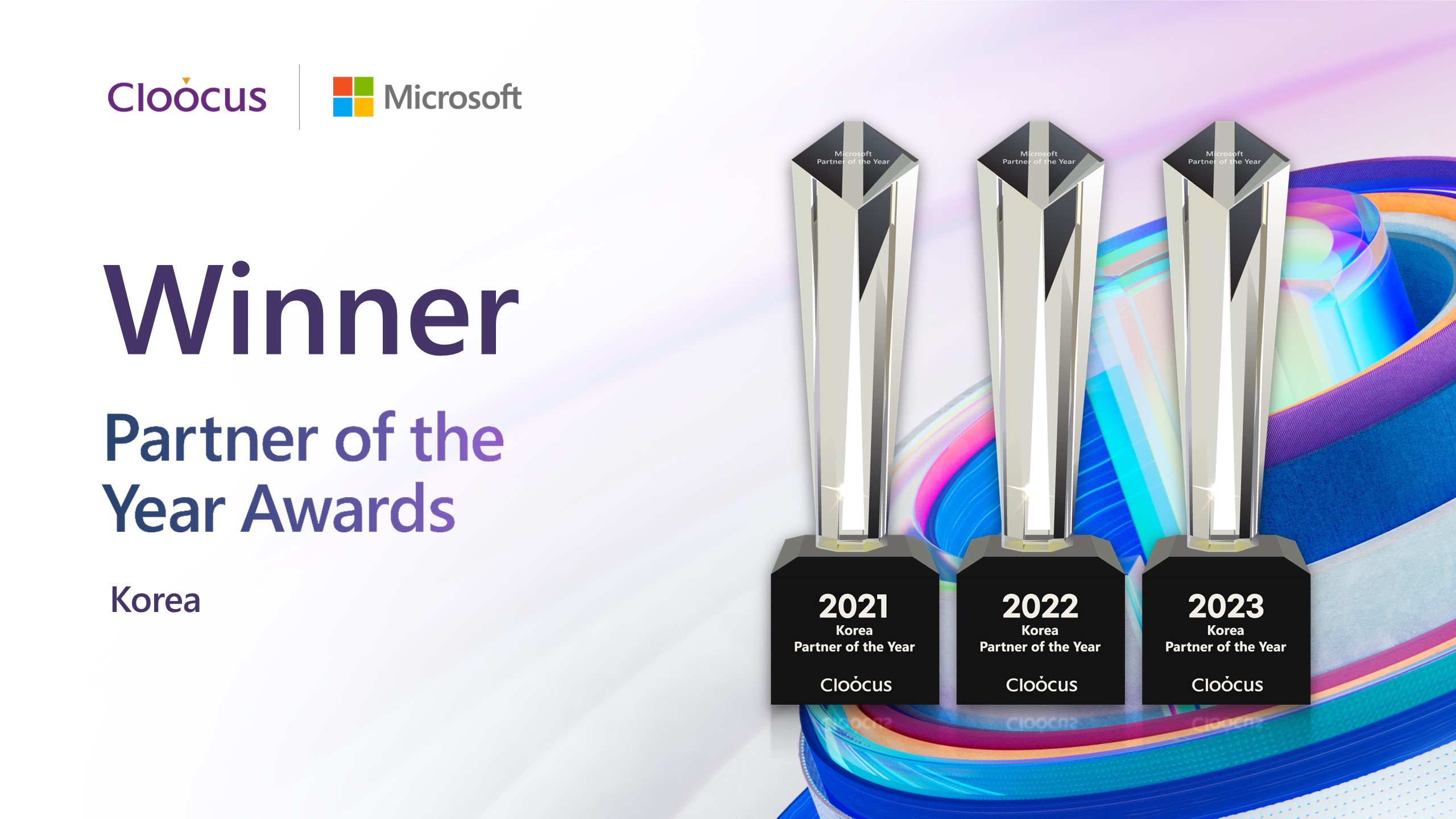 Cloocus, a leading Data and AI-based cloud experts group specialized in Microsoft, announced today that it has won the Country of the Year 2023 Microsoft Partner of the Year Award. The company was honored among a global field of top Microsoft partners for demonstrating excellence in innovation and implementation of customer solutions based on Microsoft technology.
"We are honored and thrilled to be named the Microsoft Country Partner of the Year for the 3rd consecutive year. This award recognizes the dedication and expertise of Cloocus." said Steve Hong, the CEO of Cloocus.
"We are committed to empowering our client and maximizing their business values by leveraging the remarkable capabilities of Microsoft Cloud. We will continue delivering innovative solutions based on Data and AI drive growth and success for our valued clients. This achievement reinforces our position as a trusted partner, showcasing our commitment to excellence in digital transformation."
The Microsoft Partner of the Year Awards recognize Microsoft partners that have developed and delivered outstanding Microsoft-based applications, services, and devices during the past year. Awards were classified in various categories, with honorees chosen from a set of more than 4,200 submitted nominations from more than 106 countries worldwide. Cloocus was recognized for providing outstanding and services in Korea.
Cloocus has solidified its unique position as a Microsoft Cloud partner in the Korean Market by winning the Partner of the Year Award for 3rd consecutive year. It has been honored as the Top Partner for Data & AI at the 2023 Microsoft Korea Partner Awards. Additionally, Cloocus has achieved the prestigious "Elite" level, making it the first company in Korea to attain such status within the Databricks partner program.
Operating a dedicated AI Business Center, Cloocus provides comprehensive support to businesses aiming to leverage the exceptional capabilities of Microsoft Cloud to maximize their business value. It offers a wide range of Azure-based data analytics and AI solutions, including GPT/OpenAI, Databricks, Machine Learning, Synapse, and Power BI.
With a customer base of over 800 clients across various industries, Cloocus has successfully secured major corporations as customers, including SK, Hanwha, Samsung Engineering, Samsung C&T, and Hyundai Motors. Furthermore, it has established a strong presence within the gaming industry, with notable customers such as Krafton, PearlAbyss, and Netmarble.
Cloocus actively participates in the Microsoft Launcher program, which is designed for digital-native customers, including those in the gaming industry, through close collaboration with Microsoft.
As an indirect provider, Cloocus expands the partner ecosystem for Microsoft`s business and provides support to customers through ISV growth programs and other initiatives.
"Congratulations to the winners of the 2023 Microsoft Partner of the Year Awards!" said Nicole Dezen, Chief Partner Officer, and Corporate Vice President of Global Partner Solutions at Microsoft. "The innovative new solutions and services that positively impact customers and enable digital transformation from this year`s winners demonstrate the best of what`s possible with the Microsoft Cloud."
Microsoft Partner of the Year Awards are announced annually prior to the company`s global partner conference, Microsoft Inspire, which will take place on July 18-19 this year. Additional details on the 2023 awards are available on the Microsoft Partner Network blog: http://aka.ms/POTYA2023_announcement. The complete list of categories, winners and finalists can be found at https://partner.microsoft.com/en-US/inspire/awards/winners.
_________________________________________________________________________________
About Cloocus Co Ltd
Cloocus is the top Microsoft Partner in Korea and a certified Azure Expert MSP with over 800 clients. As a Microsoft partner with 10 advanced specializations and expertise in all 6 solution areas, Cloocus continues to invest in its capabilities and has become a best practice case within the overall Microsoft partner ecosystem of Azure, Microsoft365, Dynamics365 and Power Platform.
Cloocus has been working tirelessly to serve customers ranging from enterprises to SMBs and startups in various industries, including Hyundai Motor Group, SK Group, Hanwha Solutions, CJ, Netmarble, NC, PearlAbyss, Krafton, and more.
It has overseas offices in New York and Kuala Lumpur and plans to further expand its global business across the Asia and MENA regions.