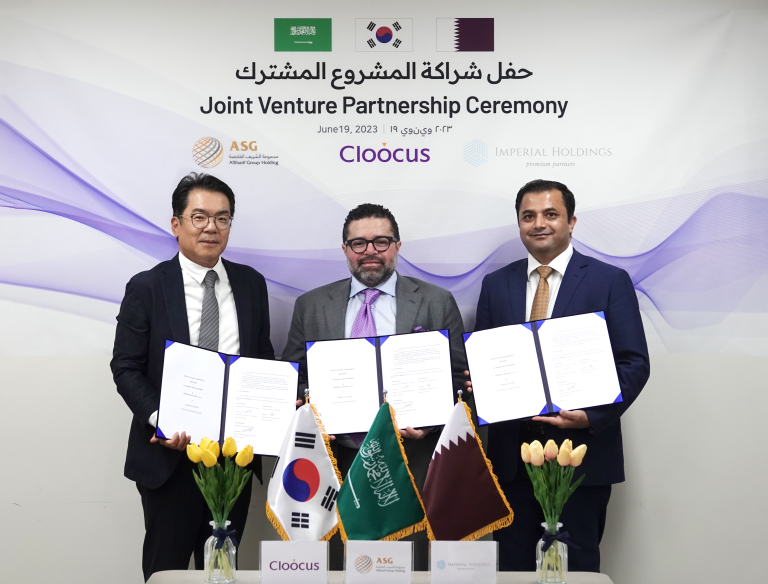 (image: from left to right: Mr. Steve Hong(CEO, Cloocus Co Ltd),

Mr. Nawaf Alsharif (CEO, ALSHARIF Group Holdings, Dr. Ali Rana Sajad (Imperial Holdings, President &CEO)
Cloocus (www.cloocus.com), a leading Data and AI-based cloud expert group, announced today that it has formed a strategic partnership with Al-Sharif Group Holdings (AGS), a prominent construction, telecommunications, and energy company in Saudi Arabia, and Imperial Holdings, a company based in Qatar in diversified business. The objective of this partnership is to establish a local joint venture to provide AI and cloud services in in Saudi Arabia.
The signing ceremony took place at Cloocus` headquarters in Seoul and was attended by key personnel, including Mr. Nawaf Alsharif, CEO of Al-Sharif Group, Dr.Ali Rana Sajad, CEO of Imperial Holdings, and Steve Hong, CEO of Cloocus.
Under this agreement, the three companies will collaborate and share integrated strategies to explore business innovation projects based on cloud and AI in Saudi Arabia. They will offer AI and cloud services to public and private enterprises and aim to expand their presence through the establishment of a local venture.
AI-Sharif Group Holdings (ASG) is a Saudi Arabia-based company operating across the Middle East, Asia, Africa, and Europe. The group is recognized as a leading player in the energy solutions market and has diversified its portfolio through the establishment of various subsidiaries, including green energy, technology, and capital investment, to enhance its competitiveness and pursue sustained growth in various fields.
Imperial Holdings is a limited liability company based in Doha, Qatar, and operating as a diverse multinational industrial services firm with active operations in diversified business from Energy, healthcare, Retail with global footprints with prominent Partners and advisors. The company previously signed a business agreement with Korea Gas Technology Corporation (KGTC) in January of this year to pioneer the environmentally friendly energy market in the Middle East.
Established in 2019, Cloocus is the fastest-growing cloud MSP in South Korea. It possesses strengths in Data and AI services, including OpenAI, and Microsoft cloud solutions. Cloocus has been recognized as the winner of the 2022 Microsoft Country Partner of the Year for the second consecutive year. Additionally, it was awarded Winner at the APJ Partner Awards 2022 at Databricks in 2022 and won the Top Partner for Data & AI at the "2023 Microsoft Korea Partner Awards", demonstrating outstanding performance and capabilities.
Cloud services in the MENA (Middle East and North Africa) region have become essential infrastructure for digital transformation across economic and social sectors. Cloud services are being adopted, and demand is skyrocketing in various fields, including petroleum distribution and management system, next-generation energy development research facilities, media, distribution, and public sectors, among others.
The public cloud market in Saudi Arabia is expected to reach approximately $1.45 billion USD in 2023 and is expected to increase to $2.58 billion USD by 2027. This represents a growth rate of 77% over a four-year period. In response to this adoption and increased demand for cloud services in Saudi Arabia, Microsoft has announced plans for data center investments.
Saudi Arabia is establishing itself as a leading AI Hub in the Middle East and North Africa(MENA) region, driven by various initiatives to promote AI research, development, and adoption under the national strategy called "Vision 2023." The AI market in the MENA region is expected to experience significant business growth, from $500 million in 2020 to $8.4 billion by 2026, with Saudi Arabia predicted to benefit the most economically.
This trend shows the rapid growth of cloud services and AI industries in MENA region, including Saudi Arabia, highlighting the importance for companies to adopt cloud and AI technologies to pursue digital innovation and enhance competitiveness.
"Cloocus is expanding its global presence, with a focus on regions where Microsoft plans to establish new datacenter regions such as Malaysia." said Steve Hong, the CEO of Cloocus. "AI is an essential service in Nemo City, the future city of Saudi Arabia, and Cloocus, equipped with extensive experience in cloud and AI, will strive to be at its core."
Mr. Nawaf, CEO of Al-Sharif Group said." Today is Historical day for us to Partner with a leader in Cloud and AI from Korea and we are committed to expand this partnership across Kingdom of Saudi Arabia as digitalization, cloud & AI services are aligned with Saudi vision 2030."
Dr.Ali Rana Sajad, CEO of Imperial Holdings said ."we are very excited for this partnership and this step will enable us to be a leader with cloocus in Cloud and AI services in kingdom Saudi and Qatar GCC."
Cloocus is highly recognized for its global scalability in Microsoft`s cloud expertise and technical capabilities. It continuously expands its global cloud service experience by providing customers with the most efficient and reliable cloud solutions.
_________________________________________________________________________________
About Cloocus Co Ltd
Founded in 2019, Cloocus Co Ltd is recognized as a Microsoft Azure expert MSP (Managed Service Provider) and currently houses the most Microsoft Azure experts in South Korea and is also recognized as Korea's first Cloud Modernization, AMP, and Azure Advanced Specializations partner with over 500+ clients.
Cloocus has been working tirelessly to serve customers from Enterprise to SMBs and startups of various industries including Hyundai Motor Group, SK Group, Hanwha Solutions, CJ, Netmarble, NC, PearlAbyss, Krafton, and more.
Cloocus was named as the winner of the 2022 Microsoft Country Partner of the Year for the second consecutive year.
It has overseas offices in New York and Kuala Lumpur and will continue to expand its global business across Asia and MENA regions.