SERVICES
Enable a secure, remote desktop experience from anywhere
Desktop as a Service(DaaS) is a cloud computing product that provides Virtual Desktop Infrastructure (VDI) over the internet with a per-user subscription license.
DaaS is hosted in the cloud and the infrastructure is cloud-based, so you don`t have to manage your own hardware.
WVD is an Azure cloud-based Windows virtual desktop environment provided by Microsoft that supports your company`s rapid remote work environment.

Securely access applications, remote desktops and data anytime, anywhere, so you can stay productive wherever you work

Scalability according to business requirement

Business continuity can be maintained without dependence on hardware

Reduce capital cost and predict cost with per-user subscription services

Simplify the process of managing desktops and apps by providing security access instructions to users
Traditional VDI/RDS vs. Windows Virtual Desktop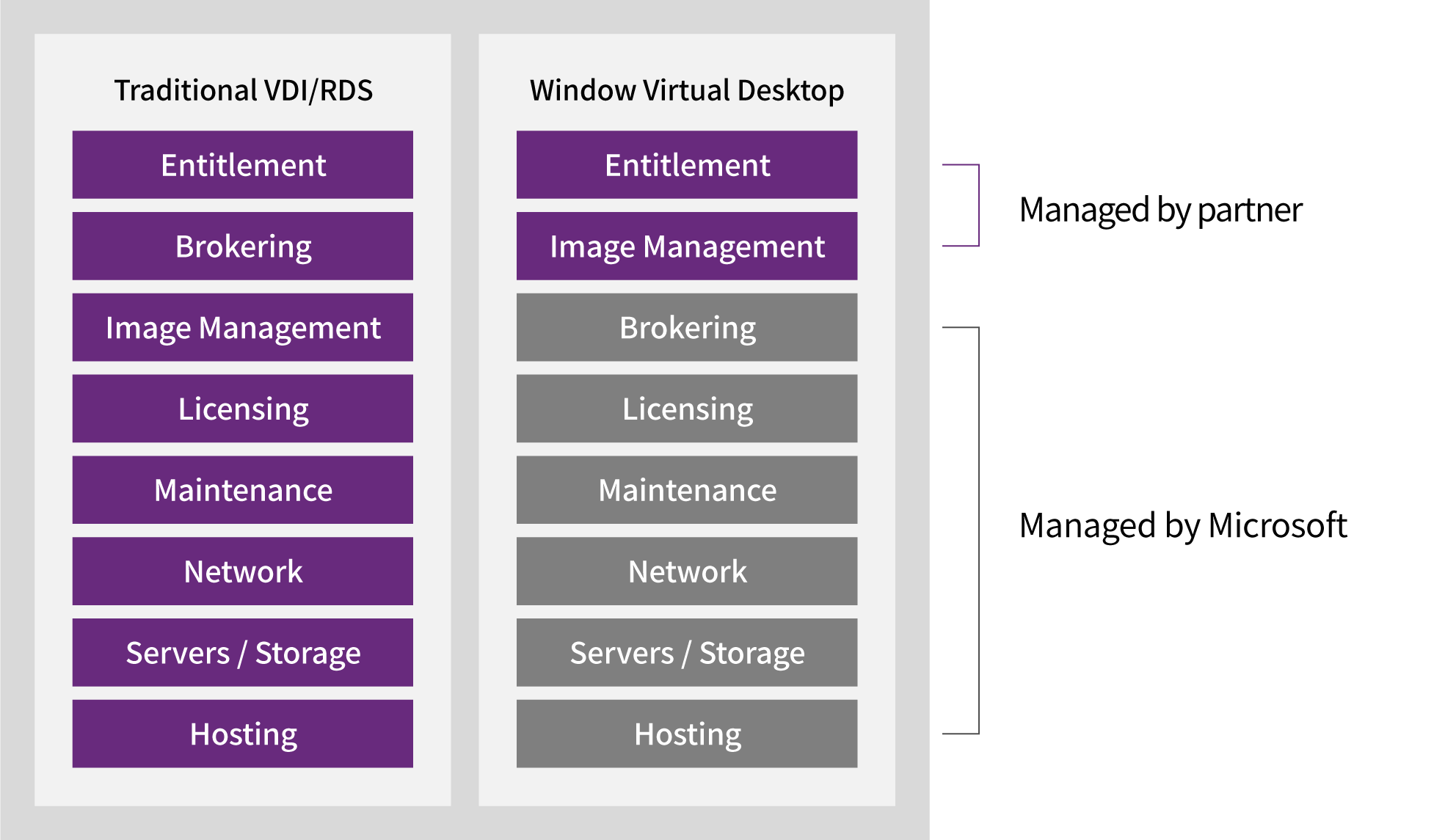 What is Window Virtual Desktop(WVD)?
Cloud-based virtual desktop and app virtualization service provided by Microsoft
1. Virtual desktop installation / Management / simple and convenient operation
2. No need to change and update VDI infrastructure according to the 5-year replacement cycle
3. Reduce initial investment and operation/management cost
4. The best security from the Microsoft cloud


Simple to deploy and manage

Sales & consistent performance

Window Virtual Desktop(WVD) Benefit

Deliver Windows 10 desktops on any device, anywhere
Provide employees the best virtualized experience with the only solution fully optimized for Windows 10 and Office 365.

Built-in
intelligent security
Keep your applications and data secure and compliant with security capabilities that can proactively detect threats and take remedial action.

Deploy and scale
in minutes
Simplify deployment and management of your infrastructure and quickly scale based on your business needs.

Reduce cost
using existing licenses
Use existing licenses to save cost with a modern cloud-based virtual desktop infrastructure (VDI) and pay only for what you use.
Access Windows 10 desktop and applications from anywhere, on any device.
Regardless of your device type (Windows, Mac, iOS, Android or any other device with an HTML5 web client) bring-your-own-device (BYOD) and remote connect to your enterprise experience with Windows Virtual Desktop.
ITs can pick whatever Azure VM will meet their teams needs and leverage the Windows 10 multi-session advantage that only Azure offers.
With Windows 10 multi-session, you can run multiple concurrent user interactive sessions easily with the same deployment for more cost efficiency.
Leverage the seamless Microsoft Teams and Microsoft Office experience
Provide employees the same experience as a local desktop or laptop – whether you are managing your inbox with outlook, sharing files on OneDrive or collaborating with colleagues on Microsoft Teams meetings.
No additional license costs – Windows Virtual Desktop is a free service and can be used with your existing Microsoft 365 or Windows per user license.
Reduce infrastructure costs – by right sizing VMs and shutting down VMs in use.
Increase utilization of VMs with Windows 10 multi-session. Avoid upfront costs and align operational expenses to business usage.
Reduce management overhead by moving all your VDI into a managed service in the cloud.
Deploy and scale quickly with Azure portal
The Azure portal is your management hub for Windows Virtual Desktop. Configure network, deploy desktop, and enable security with a few clicks.
Setup automated scaling with Logic Apps and manage your images efficiently with Azure image gallery.
You focus on your desktop apps and policies and Azure will focus on managing the rest.